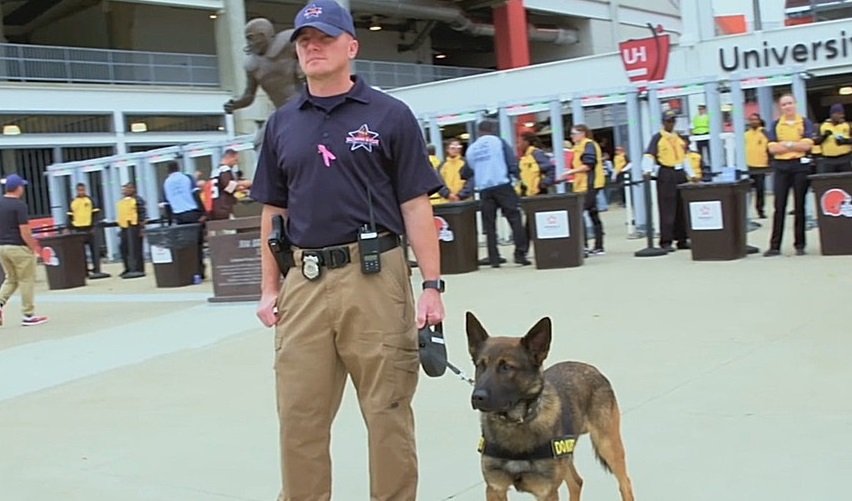 Excel K-9 on ESPN
NFL modernizing security to ensure fan safety
NFL security chief Cathy Lanier details the precautions the league has taken to make fans safer at NFL events.   As the Police Chief of Washington, DC, Kathy was instrumental in the security for numerous public events including the inaugurations of President Obama.  Coordinating events like the Super Bowl can involve over 4,000 officers, and require detection of everything from ammunition to firearms and explosives.
See how Excel K-9,Inc delivers the highest level of K-9 security for the NFL in Cleveland.
Excel K-9 Explosive Detection Services
Excel K-9 Services Inc. is dedicated to providing exceptional canine detection services. Our goal is to create a safe and secure environment for your family, staff and guests. Our dogs and handlers are trained to detect explosives in vehicles, mass transit, buildings, open areas, parcels, and are also trained on person-borne explosive detection / explosive odor tracking. Our teams customize all of our services to meet your individual needs, whether it is an ongoing contract or a one time event.
Excel K-9 Services' canines are hand selected by Master Trainer Paul Shaughnessy. The handlers must complete a rigorous and challenging training program. The canines are trained to detect explosives in a wide array of environments, locations and situations.
The Excel K-9 Services' staff, includes fully trained and experienced handlers along with current or former law enforcement officers with real world experience. The staff members have held the positions such as: Bomb Squad Commander, Bomb Technician, Hazardous Material Technician and Instructor and SWAT Commander for a major metropolitan city.
Excel K-9 Services' staff can provide: on site threat assessments, preventative searches, threat deployment searches, and educational classes for your staff on explosive awareness and reducing workplace violence. Excel K-9 Services are available world wide to meet our clients needs.
Each handler and detection canine team spends hundreds of hours perfecting odor detection. The Excel K-9 Services' teams train and practice in many different environments and are continually enhancing their skills. The teams are trained to exceed the standards of the Ohio Peace Officer Training Commission and the North American Police Work Dog Association Police Canine Evaluations.
Excel K-9 Services, Inc. is licensed to store and use explosive materials by the United States Department of Alcohol, Tobacco, Firearms and Explosives (ATF). The Excel K-9 Services' teams train with various amounts and types of real explosives. This approach guarantees that we have only the best detection teams available to meet all of your needs and assist you in creating a safe and secure environment.
Site Threat Assessment:
This assessment is conducted for your facility or event location and includes a fully written report designed to identify the strengths and weaknesses of your physical security and polices to prevent and or respond to a threat of explosives and or violence.
Preventative Search:
This type of detailed search is conducted prior to a specific event. The searches are completed using our fully trained explosive detection canine teams. Also, available are our specifically trained bomb technicians utilizing our wide array of tools and equipment to visually assist our canine teams. These searches are fully customized to meet the client's needs.
Threat Deployment Search:
This type of detailed search is conducted in a rapid response to any type of perceived threat. Our customized search uses fully trained canine teams with bomb technicians and includes a highly detailed search of your facility or event.
Explosive Awareness and Reducing Workplace Violence:
Excel K-9 Services, Inc. provides customized workshops on the topics of:
Response to Explosive Threats
Telephone Threats
Postal and Delivery Threats
Facility Search
Explosive Identification
Planned Threat Response
Employee Response to Violence in the Workplace
Workshops are conducted utilizing various teaching methods and are tailored to your specific needs. The workshop can be presented at a Excel K-9 Services' training facility or your location.
Excel K-9 Services has provided a customized search response to:
Stadiums
Schools
Religious Facilities
Marathons / Races
Homes
Industrial Facilities
Hospital / Treatment Centers
Special Events
Contact Excel K-9 Services, Inc. to respond to your emergency or discuses your specific needs.