Excel K-9 Therapy Dogs
Therapy dogs are trained to provide affection and comfort to people in hospitals, retirement and nursing homes, special schools, juvenile halls, prisons and stressful situations such as disaster areas.
The therapeutic use of pets as companions has gained increasing attention in recent years as a valuable aid in reaching out to a wide variety of patients. Animals provide a constant source of comfort and focus for attention.
A good therapy dog must be friendly, patient, confident, at ease in all situations, and gentle. They come in all sizes and breeds. Therapy dogs must enjoy human contact and be content to be petted and handled, sometimes clumsily.
Excel K-9 prepares dogs and handlers for the Delta Society and Therapy Dogs International Testing Evaluation. Locally our dogs are working for private individuals and Cleveland Clinic.
Delta Society believes that people are healthier and happier because companion, service and therapy animals enrich and positively impact their everyday lives.
The mission of Delta Society is to help lead the world in advancing human health and well-being through positive interactions with animals. We help people throughout the world become healthier and happier by incorporating therapy, service and companion animals into their lives.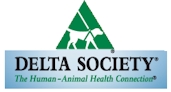 Therapy Dogs International, Inc. (TDI) is a volunteer organization dedicated to regulating, testing and registration of therapy dogs and their volunteer handlers for the purpose of visiting nursing homes, hospitals, other institutions and wherever else therapy dogs are needed.
Contact Paul Shaughnessy to find out if your dog is cut out to be a therapy dog. He can help your dog become certified to do amazing rewarding work.